Sabinash soars, Jimmies back in national semifinals
University of Jamestown women's volleyball sweeps Eastern Oregon on a night Jimmies' coach Jon Hegerle reaches 300 career wins.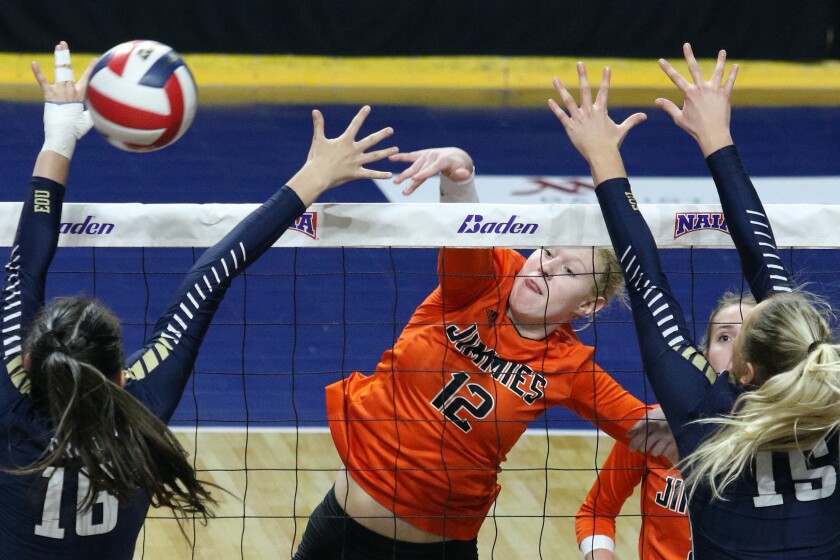 Taylor Sabinash shed a lot of tears in 2017.
The former high school all-state volleyball player lost her grandfather, Ray Sabinash, in the spring, and in the fall her Medina/Pingree-Buchanan Thunder had their hearts crushed in the Region 3 tournament championship by eventual three-time Class B state champion LaMoure/Litchville-Marion.
Thursday night in Sioux City, Iowa, Sabinash had a photo of Ray -- her No. 1 fan -- tucked into the side pocket of her bag at courtside, three of the athletes who once defeated her were now her University of Jamestown teammates, and Sabinash and the Jimmies are two matches away from an NAIA women's volleyball national title.
Sabinash played the match of her life facing Eastern Oregon in the national quarterfinals at the Tyson Events Center, attacking .647 with a match-high 12 kills as the Jimmies swept the Mountaineers: 25-22, 25-20, 25-21.
"I just kept looking at him," said Sabinash, referring to the photo she'd peak at before rotating in. "I know he was really looking down and smiling."
The Jimmies will play Great Plains Athletic Conference rival Midland University in Friday's semifinals at 5 p.m. The Warriors defeated the Red Raiders 3-1 during a national quarterfinal night in which five of the final eight teams represented the GPAC.
The Jimmies' head coach Jon Hegerle also won his 300th career match, which might not have happened without Sabinash. The 6-foot-1 junior middle hitter tied teammate Kalli Hegerle with four kills in a pivotal opening set where both the Mountaineers and the Jimmies hit north of .350.
Sabinash played junior varsity for the Jimmies as a freshman.
"She just keeps getting better and better and better," Hegerle said. "She's worked really hard at becoming a little bit more multifaceted as a hitter. That's been a real strong desire of hers and you can see it.
"All of a sudden she's tipping a ball to an area where no one is, so she's added to her arsenal."
Sabinash added three more kills in the second, helping the Jimmies erase an early 10-4 deficit to lead 23-18, and hammered five more spikes to the court as the orange and black overpowered the Mountaineers in the third.
Whether sending the ball home in the middle with authority or cutting a shot past the block down the line, Sabinash lived up to her nickname. She committed just a single attacking error in 17 attempts.
"Her family was here with T-shirts and on the back it said: Sabismash," Hegerle mused.
"All the glory to God, my setters and coaches," Sabinash said. "They've all been just amazing at helping me get to be where I am."
Some of those teammates were fierce high school rivals. Outside hitter Anna Holen, her younger sister and defensive specialist Ellie Holen, and setter Jackie Meiklejohn, were all on the LaMoure/Litchville-Marion team that ended Sabinash's high school career a handful of years back.
Anna Holen finished with eight kills Thursday, while setter Jackie Meiklejohn turned in 19 assists and Ellie Holen found the floor for one of UJ's three service aces.
"Anytime I doubt myself I just go back to my teammates and they lift me up," Sabinash said. "They're so awesome about that."
The opening set was tied at 20-20 before Anna Holen and Sabinash teamed up for back-to-back kills that helped set up the 25-22 UJ victory. An important win confidence-wise, as the Mountaineers hit .343 and the Jimmies .375.
Because even as Eastern Oregon leaped ahead 10-4 in the second, the Jimmies already knew it could land punches. A Sabinash kill started an 11-3 UJ run that flipped the script 15-13 Jimmies, which ended with Kalli Hegerle pushing a ball for a kill to a backline void of Eastern Oregon players.
Hegerle finished the match with 10 kills and a pair of blocks, fighting through an ankle injury she sustained on Tuesday in pool play.
"She's done that all year," coach Hegerle said of his niece. "She didn't have the same pop in her step today. I think her ankle might've been hurting her a little bit."
UJ limited the Mountaineers to .094 at the net in the second, and match point in the third was scored on Eastern Oregon's 19th attacking error of the night following devastating kills by Anna Holen and senior middle Corina Huff.
"I think they played as well as they could in that set 1 and then they lost," Hegerle said. "Our team, the way we pass, the way we serve, the way we defend -- and then obviously our offense was really rolling because of that -- but it just put a lot of pressure on them."
The Jimmies were also battle-tested. Along with four other GPAC teams in the final eight -- Northwestern College, Midland, Dordt, and Concordia University -- the Jimmies were playing their 31st match of a season that began in September.
The Mountaineers started the season in February and were playing their 21st match.
Hegerle said win No. 300 -- like UJ's previous 29 victories this season -- was a joy to coach.
"We get to play again," Hegerle said. "And, this team is so fun to coach that I'm just super excited and super happy for them, and proud of them and how they've performed here.
"It doesn't get old."
Others turning in a solid match for the Jimmies were Jayla Ritter (seven kills) and setter Megan Gaffaney (21 assists, 12 digs). Sydney Ellingson led the Jimmies in digs with 16.
The Mountaineers (19-2) were led by Cambree Scott and Sade Williams each with 11 kills.
Hegerle has guided the Jimmies to eight national tournaments and is back in the national semifinals for a second straight year. The Jimmies defeated Midland in four sets twice this season, the last coming in the GPAC tournament semifinals on April 7 in Jamestown.
"Every team in the GPAC, they work really hard and you know where their heart's at," Sabinash said. "It's going to be a hard game and whoever is gonna lose, it's going to be a hard loss and both teams are going to feel that."
NAIA Women's Volleyball
At Sioux City, Iowa
(1) University of Jamestown 3, (8) Eastern Oregon 0
EO 22 20 21
UJ 25 25 25
EO -- Kills: Sade Williams 11, Cambree Scott 11, Preslee Jensen 9, Breanna Shaffer 5, Jet Taylor 4, Madison Morgan 4, Kiley McMurtrey 1, Madison Pilon 1. Assists: Pilon 37. Aces: none. Digs: McMurtrey 26, Williams 12, Aspen Christiansen 10, Pilon 9, Jessie White 4, Shaffer 2, Jensen 2, Mariah Moulton 2. Blocks: Taylor 1, Shaffer 1, Scott .5, Williams .5.
UJ -- Kills: Taylor Sabinash 12, Kalli Hegerel 10, Anna Holen 8, Jayla Ritter 7, Corina Huff 5, Nicole Schmitz 3, Jackie Meiklejohn 2. Assists: Megan Gaffany 21, Meiklejohn 19, Sydney Ellingson 3, Hannah Schiele 2. Aces; Holen, Meiklejohn, Ellie Holen. Digds: Ellingson 16, Gaffaney 12, Meiklejohn 11, A. Holen 10, Schiele 10, E. Holen 2, Sabinash 2, Ritter, Hegerle, Schmitz. Blocks: Hegerle 2, Ritter, Huff, Sabinash .5, Schmitz .5.
Records: Jamestown 30-1. Eastern Oregon 19-2.
Thursday's quarterfinal matchups
April 29
University of Jamestown 3, Eastern Oregon 0 (25-22, 25-20, 25-21)
Dordt 3, Concordia (Neb.) 0 (25-23, 25-18, 25-21)
Midland 3, Northwestern (Iowa) 1 (25-18, 15-25, 25-20, 25-17)
Missouri Baptist 3, Grand View 2 (13-25, 25-21, 18-25, 25-21, 15-12)
April 30
Semifinals
Jamestown vs. Midland, 5 p.m.
Dordt vs. Missouri Baptist, 7:30 p.m.
May 1
Championship, 7 p.m.