Sport shorts: LLM's Heidi Steffes brings down Maple River's defense
Class B volleyball teams were in action on Tuesday evening.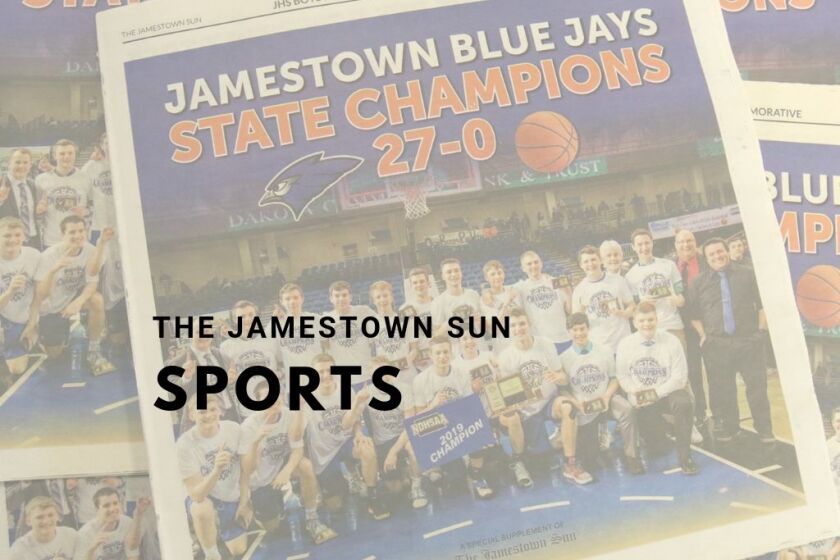 We are part of The Trust Project.
It was a night for the tall girls Tuesday evening in LaMoure.
Heidi Steffes, a junior middle hitter, for the LaMoure/LM volleyball team used her length and her hops to collect 18 kills against Maple River's defense.
New wording in the North Dakota High School Activities Association code of conduct calls for anyone making discriminatory comments to be immediately removed.
The Loboes swept the Raiders 25-16, 25-20, 25-14 to move to 2-1 overall.
When she wasn't busy smashing the ball, Steffes was on her toes ready to block. The junior was credited with five of the team's eight solo blocks. She also delivered a pair of aces and popped up two balls to setters Bailie Kelley and Lexi Linebaugh who combined for 25 assists.
Cassie Quinlan was once again the anchor in the back row, passing up 14 digs to Kelley and Linebaugh. Linebaugh was the team's service leader, delievering three aces from the back line.
LLM is set to face District 5 rival, Oakes, on Thursday at 7 p.m. Maple River will host Central Cass on Thursday at 7 p.m.
LaMoure/LM 3, Maple River 0
LLM 25 25 25
MR 16 20 14
LLM — Kills: Heidi Steffes 18, Tessa Rasmusson 6, Bailie Kelley 4, Savanna Steffes 3, Nateal Rodin 1, Izzy Miller 1. Assists: Kelley 14, Lexi Linebaugh 11, Cassie Quinlan 2, S. Steffes 1. Digs: Quinlan 14, S. Steffes 9, Kelley 6, Rasmusson 3, Rodin 3, Steffes 2. Aces: Linebaugh 3, Steffes 2, Rasmusson 2, S. Steffes 2, Kelley 1.. Blocks: Steffes 5, Rasmusson 1, S. Steffes 1, Kelley 1.
MR — No final stats provided.
Harter hits it harder against Hornets
Kennedy Harter couldn't be slowed down Tuesday evening.
The Kidder County senior racked up 20 kills, 13 digs, 2 aces and a pair of blocks helping her team to a 3-0 sweep of the Hornets. The Wolves now stand at 2-1 overall. They are slated to take on Wilton/Wing next. The game is scheduled to begin at 7:30 p.m. at the Wolves' home venue.
Harter wasn't the only one putting points on the board. Senior outside, Avery Rath was responsible for blasting 14 balls past H/WC's defenses and saving 13 balls from the floor. Kylee Rohrich was also a force in the back row, easily nabbing 13 digs.
No final stats were provided by the Harvey/Wells County coaching staff. The Hornets (1-2) will host St. John on Sept. 13. First serve is scheduled for 7:30 p.m.
Kidder County 3, Harvey/Wells County 0
KC 25 25 25
HWC 11 15 12
KC — Kills: Kennedy Harter 20, Avery Rath 14, Breanah Pfaff 1, Drew Stroh 1. Assists: Pfaff 33. Digs: Harter 13, Avery Rath 13, Kylee Rohrich 13, Pfaff 7, Stroh 6. Aces: Harter 2, Stroh 2. Blocks: Harter 2, Pfaff 2, Sidney Mock 1, Rath 1.
HWC — No final stats provided.
Thomas, Bosche continue to lead Thunder
Allison Thomas' name appeared in every stat category at least once on Tuesday evening.
The Medina/Pingree-Buchanan junior helped lead her team to a 3-0 victory over New Rockford-Sheyenne to move to 2-3 overall. The Thunder will be in Ellendale on Thursday. The match between the Thunder and Cardinals will begin at 7:30 p.m.
Thomas was the only member of her team to record a kill count in the double digits Tuesday. The junior outside knocked out 10 kills while Maddie Gefroh put up nine. Thomas was also credited with an assist and 11 digs, second only to libero Alaina Bosche who ended the night with 18.
From the back line, Thomas served up an ace and was the source of a block.
New Rockford-Sheyenne (0-2) will host Barnes County North on Thursday. The match is set for 5 p.m.
Medina/PB 3, New Rockford-Sheyenne 0
MPB 25 26 25
NRS 20 24 14
MPB — Kills: Allison Thomas 10, Maddie Gefroh 9, Brynn Sorenson 5, Kelsey Vandeberghe 4. Assists: Lilly Bohl 31, Thomas 1, Alaina Bosche 1. Digs: Bosche 18, Thomas 11, Bohl 8, Sorenson 7, Sophia Bohl 2. Aces: Sorenson 3, Kaln Kinzell 2, Violet Bohl 1, Thomas 1. Blocks: Gefroh 4, Sorenson 1, Thomas 1.
NRS — No final stats provided.