Title time: Rebels punch ticket to state 'B' championship game
Kevin Strobel called it.
MINOT -- Kevin Strobel called it.
The head boys basketball coach for Edgeley/Kulm/Montpelier said Thursday that Friday night's Class B state tournament semifinal game between his Rebels and the Grafton Spoilers at the Minot State Dome could be a race to 40.
EKM's physicality took center stage in the final four, reaching 40 points during a Dalton Madcke and-one at the foul line in the final two minutes, and the Rebels are heading to Saturday's championship following a 43-40 victory over the Spoilers.
The Rebels will play Kindred tomorrow night at 8:30. EKM defeated Kindred 44-39 on Jan. 15 in Kulm.
Edgeley won a state championship in 1990, the last time the community qualified for state. Kulm also won a state title in its last appearance at the state 'B' in 1958.
"I think I said the first one to 40, and we were," Strobel smiled.
The Rebels and the Spoilers combined to score 133 points in Thursday's quarterfinals.
"It was a grinder. Both teams really worked hard, defended really well. There was no doubt it was physical, which really made buckets hard to come by."
The Rebels held Grafton to less than 35% shooting (16 of 48) one day after the Spoilers erupted for 14 3-pointers in an overpowering 66-28 victory over Powers Lake, but the champions of Region 3 had to overcome five missed free throws in the fourth quarter.
EKM standout Alex Huber, who led the Rebels scoring 16 points, clanked two at the line in the final minute with EKM up three points, 41-38. But the 6-foot-6 senior totally redeemed himself in the final 10 seconds.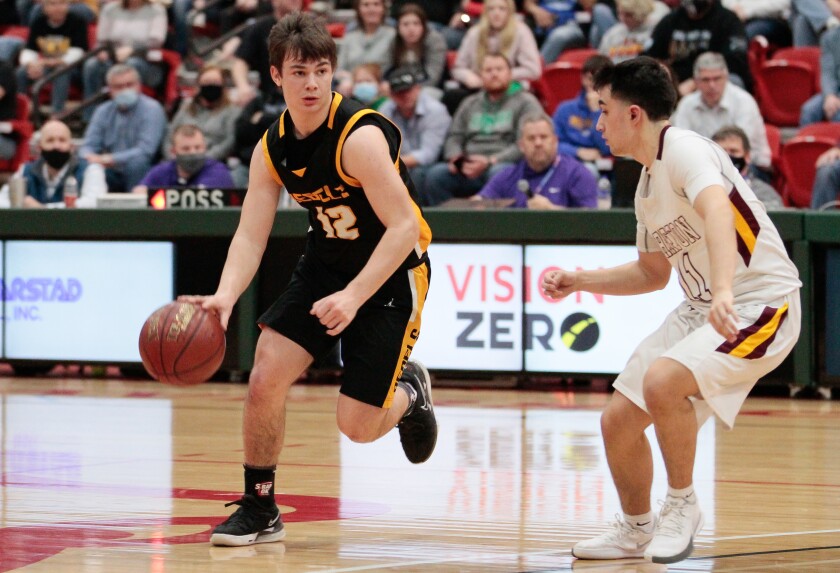 Leading 41-40 after a pair of Madcke misses at the line, Madcke was first able to strip Grafton's Stevan Garza at the top of the key and Huber collected the steal before being fouled just past half court with 4.7 seconds remaining. Huber nailed the two double-bonus shots to produce the final score.
"I got caught," Huber smiled. "I wasn't fast enough."
Normally reliable at the free-throw line -- Huber shot 75% there this season -- the Rebels' main man missed three free ones in the fourth quarter as the Spoilers erased an eight-point, 41-33 deficit with 1:54 to play to just one in the final minute.
"Honestly, I don't know? They just didn't fall," Huber said. "I hit my last two and I needed to hit those for the team to win. It worked out."
It wouldn't have happened without EKM's top-flight defense, which came up with the game-changing turnover at just the right time.
"I think (Madcke) did knock that down and Alex cleaned it up," Strobel said of the steal of Garza. "Actually, I think (Madcke) was trying to reach because we were trying to get one more foul. I said if they get past your hip, you go ahead and give it because we had more and more to give.
"It turned out he got it clean, Alex got the steal and the rest is history."
The Rebels trailed 23-20 at the half, despite holding the Spoilers to just 1-for-13 shooting from beyond the arc. A 13-1 run by Grafton contributed to the lead at the break, after the Rebels led by as many as seven (13-6) in quarter No. 1.
But EKM's imposing size with Huber and 6-7 Chayse Entzi, and physicality with Madcke and senior Jorgen Paulson, made getting to the bucket difficult for the Region 2 champs. Shot selection arguably suffered for Grafton as a result, finishing 4 of 26 from downtown.
Garza led the Spoilers with 22 points. William Jiskra posted a double-double of 10 points and 12 rebounds.
"If you had said at the beginning of the year that we'd have a chance to get to the state championship game with 15 seconds to play, that's all you can ask," said Grafton coach Riley Lillemoen. "We were right where we wanted to be. We just didn't make a play at the end."
Clutch 3-pointers by Madcke and Adam Nitschke helped the Rebels reclaim the lead at 32-31 to begin the final eight minutes. Madcke would cap a 9-2 Rebels' run to open the final frame by scoring while being poked in the right eye by Grafton's Justin Garza.
The junior point guard buried the extra shot at the foul line.
"We had to get our offense going," Madcke said. "It really wasn't going the second quarter, we had to get it going the second half. I didn't have much points the whole game, but I just wanted to help the team and hit a couple shots."
Justin Garza was able to get off a 3-point attempt in the final three seconds to try and send the game to overtime, but the shot was off the mark and time expired.
"The kids aren't afraid to mix it up a little bit," Strobel said. "(Grafton) shot the ball so well yesterday and I said, boy, we gotta get out and make sure we get a high hand and contest those shots. I thought we did. They maybe had a couple easy looks but for the most part, we were rushing them. They didn't really have time to set up and get a good look."
Nitschke and Madcke both finished with nine points, and 10-for-20 at the foul line was good enough to send the Rebels into the title tilt.
"They made them when they counted," Strobel said. "Alex stepped up and knocked those last few down, it was huge."
Huber said: "I'm just excited to come out tomorrow and see what we can do."
STATE CLASS B BOYS BASKETBALL TOURNAMENT
AT MINOT STATE DOME
Edgeley/Kulm/Montpelier 43, Grafton 40
EKM 14 6 12 11 -- 43
GRA 15 8 8 9 -- 40
EKM -- Alex Huber 16, Adam Nitschke 9, Dalton Madcke 9, Jorgen Paulson 7, Paxton Mathern 2. Totals: 15-36 FG, 3-10 3-pointers (Nitschke 2, Madcke), 10-20 FT, 25 Rebounds (Entzi 6), 10 Fouls, 8 Assists (Huber 2, Entzi 2, Nitschke 2), 11 Turnovers, 4 Blocks (Entzi 2), 5 Steals (Huber 2, Nitschke 2).
GRA -- Stevan Garza 22, William Jiskra 10, Justin Garza 5, Brandon Albrecht 3. Totals: 16-48 FG, 4-26 3-pointers (S. Garza 3, Albrecht), 4-6 FT, 33 Rebounds (Jiskra 12), 16 Fouls, 9 Assists (S. Garza 4), 9 Turnovers, 4 Blocks (4 with 1), 7 Steals (Jiskra 4).
Records: Edgeley/KM 24-2. Grafton 23-3.
(Tournament seeding and overall records in parentheses)
March 18
G1: (2) Grafton 66, Powers Lake 28
G2: (3) Edgeley/KM 67, Rugby 63
G3: (1) FW/Minn. 68, Shiloh Christian 52
G4: (5) Kindred 46, (4) Dickinson Trinity 43
March 19
G5: Rugby 74, Powers Lake 65
G6: Dickinson Trinity 53, Shiloh Christian 45
G7: Edgeley/KM 43, Grafton 40
G8: Kindred 60, FW/Minn. 42
March 20
Seventh Place: Powers Lake (22-4) vs. Shiloh Christian (15-11), noon
Fifth Place: Rugby (19-8) vs. Dickinson Trinity (22-4), 2:30 p.m.
Third Place: Grafton (23-3) vs. Four Winds/Minnewaukan (24-2), 6 p.m.
Championship: Edgeley/KM (24-2) vs. Kindred (19-5), 8:30 p.m.